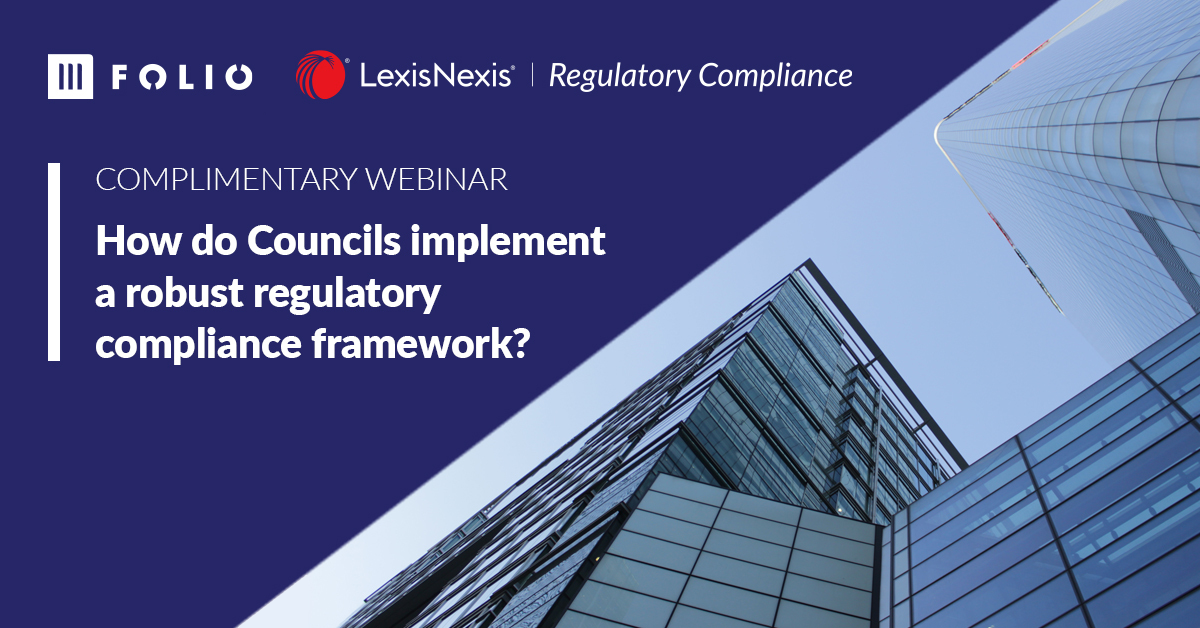 When:
Monday June 12, 12 PM AEST
Presenters: 
Jo Simonelli, Government Lead, Folio
Michael Nelson, Product Specialist, LexisNexis Regulatory Compliance
Save your spot now!
Folio and LexisNexis would like to invite you to a webinar that addresses the question "How do councils implement a robust regulatory compliance framework?"
The webinar features Jo Simonelli, Government Lead with Folio and Michael Nelson, Product Specialist for LexisNexis Regulatory Compliance.
Councils like most businesses operate in an environment where not just the volume but also the complexity of legislation and regulations is increasing faster than ever before. Failure to comply can have crippling consequences ranging from fines and lawsuits to significant damage to reputation and increased stakeholder unease. Councils and their leadership are keen to achieve a compliance maturity level where:
They are doing enough to have the confidence that they are protected from identified threats.
They have identified any gaps in their  compliance program that make them vulnerable and that they understand how these gaps would impact capability and bottomline.
Most importantly, they understand what it takes to close the gaps. What the costs are and how they measure progress.
In this Webinar, Jo and Michael discuss these practical considerations and challenges facing compliance and risk functions across Councils throughout Australia and how they could potentially be resolved.
About Folio
Folio is web-based GRC software from Kwela Solutions. The software system is quick to implement, affordable and easy to use, with the ability to be scalable to your organisation's needs. Folio provides an integrated framework for risk, compliance, incidents, contracts and audits.
About LexisNexis Regulatory Compliance
LexisNexis Regulatory Compliance is a legal obligations register and alerting solution that combines regulatory content with technology to empower you to take control of your compliance obligations.