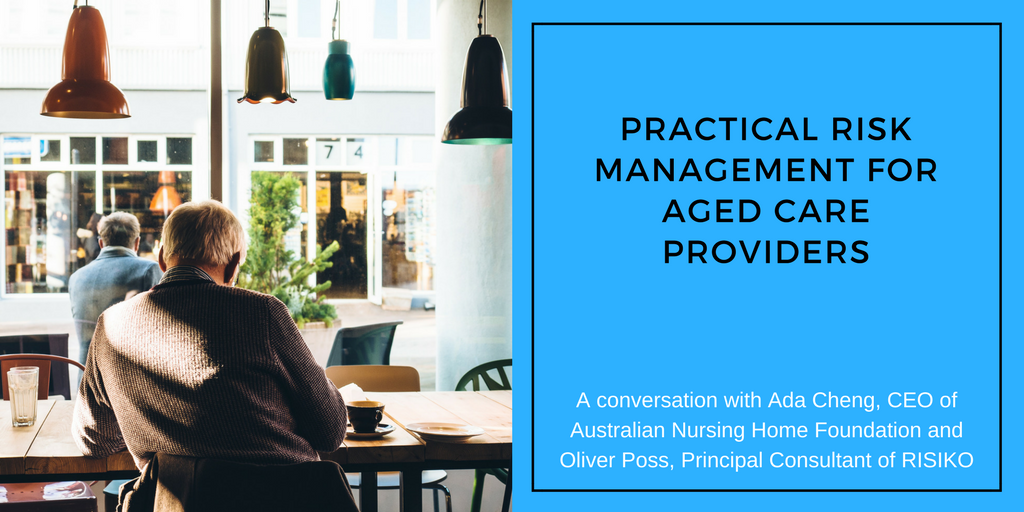 It is always fantastic to know that your solution is making a real difference to a customer.
A few days ago, our customer, Ada Cheng, CEO of the Australian Nursing Home Foundation (ANHF) shared her experiences with Folio and with implementing a practical risk management framework for ANHF, at a webinar that we organised. Ada shared her virtual stage with Oliver Poss, the Principal Consultant of RISIKO, a Sydney-based risk management consultancy. Oliver has been instrumental in developing a guiding ANHF through the implementation of their risk management framework.
The webinar on 'Practical Risk Management for Aged Care Providers' offers an insight into how a structured risk framework coupled with an intuitive software solution and a quality implementation process can truly make a difference.
ANHF was established in 1980 and has since grown to becoming one of the largest providers of culturally and linguistically diverse aged care in Australia. The requirement for CALD services is growing at a rapid rate given the diverse nature of Australia's population. Ada during her tenure as CEO of ANHF has tripled both revenues and portfolio. Given the growth that ANHF has achieved, Ada saw the need and the importance of having a structured risk management framework in place, as a result, ANHF engaged RISIKO to help with this process.
The key drivers for ANHF were to have a single system for all risks and to provide assurance to their Board that risks across the organisation were being managed.
ANHF and RISIKO worked together to develop a risk management framework and then embarked on the process of implementing this framework through Folio. Some of the key insights expressed in the webinar included:
The need for a system that could manage all risks in the one software tool rather than have multiple systems
The ability for the system to support the multicultural nature of ANHF's staff. For example, staff who communicate in Chinese can use Folio too
The simple and intuitive nature of the software was also a factor in its success
Most importantly, ANHF's Board are assured that there is a rigour in their risk management process
Ada also touched on the importance of training and use of videos that ensured that staff could access training at any time and anywhere
Key to the success of ANHF's framework was it's development and rollout by the risk management consultancy RISIKO. Oliver Poss, RISIKO's principal consultant has over two decades experience as a risk an audit professional and has had roles at Lendlease, Ford Credit, Protiviti and government agencies. Oliver has drawn significantly on these experiences to develop a practical risk framework for ANHF.
Here is a quote from the webinar:
We believe we can showcase all our good risk management processes in Folio, an all-in-one system that we can show the assessor how the company can manage risk at all levels... I think that this is a very good, accountable system for any organisation that wants to commit to providing high quality risk management.