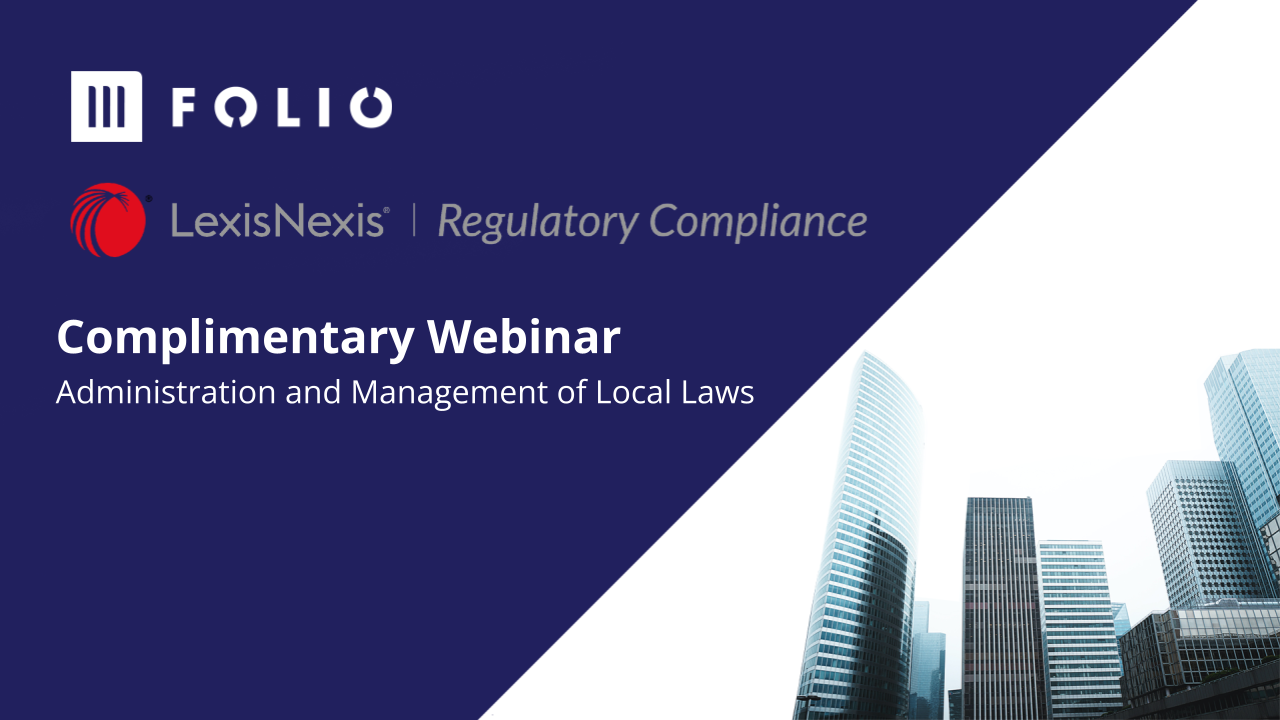 Folio and LexisNexis would personally like to invite you to a webinar that addresses a simplified process in the "Administration and Management of Local Laws" to ensure that the regulatory notice periods, consultation requirements and ongoing review criteria is measured and maintained. ; this is the No.3 Webinar in the Local Government series.
When:
Tuesday October 26, 1 PM AEDST ( 12pm AEST)
Presenters: 
Jo Simonelli, Government Lead, Folio
Michael Nelson, Product Specialist, LexisNexis Regulatory Compliance
Save your spot now!
Local governments are the first line of connection to communities, providing their municipalities with a wide range of services such as roads, water and waste, libraries, and parks.
This past year, the COVID-19 pandemic presented new challenges for local governments to deliver these services while under immense pressure in a time of unpredictable change. Identifying the need for trackable simplified models for the management and maintenance of these critical control aspects that impact on their community.
The purposes of local law-making is to provide a legal and procedural framework for the administration, implementation and enforcement of the local government's local laws, subordinate local laws and specified regulatory powers under legislation, and to provide for miscellaneous administrative matters.
There are several provisions about local laws, including the process for making local laws, that are set out in the Local Government Act 2009, chapter 3, part 1, and the City of Brisbane Act 2010, chapter 3, part 2.
This webinar seeks to simplify the administrative burden by identifying a single source of truth platform that can greatly reduce this heavily administrative process so the organisation can focus on the consultation and implementation more effectively under the management of Local Laws and their Administration.
About Folio
Folio is web-based GRC software from Kwela Solutions. The software system is quick to implement, affordable and easy to use, with the ability to be scalable to your organisation's needs. Folio provides an integrated framework for risk, compliance, incidents, contracts and audits.
About LexisNexis Regulatory Compliance
LexisNexis Regulatory Compliance is a legal obligations register and alerting solution that combines regulatory content with technology to empower you to take control of your compliance obligations.